Midnight Syndicate komponiert Soundtrack für "Sin-Jin Smyth"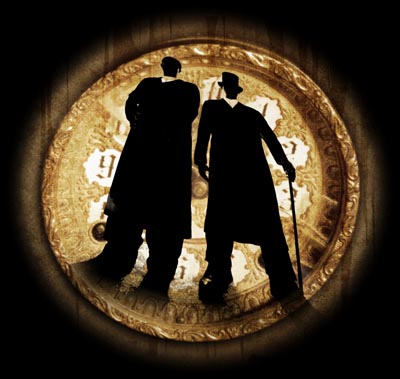 April 23, 2004 (Cleveland, OH) – Midnight Syndicate has inked a deal with Warner Brothers-based Snapkick Productions, Inc. to compose the music for the upcoming feature film, SIN-JIN SMYTH – a story about two federal marshals transporting a prisoner who turns out to be the devil.
The film is to be produced by Lota Hadley and Ethan Dettenmaier (Respect the Dead, Knight Fever) and the production outfit is in negotiations with actors Richard Tyson (Blackhawk Down, Kindergarten Cop, Something About Mary) and Jason Hildebrandt (Blackhawk Down, The Dinner Party) to star.
Writer/Director Ethan Dettenmaier said "SIN-JIN SMYTH requires composers who understand horror in the classic design – we're happy to be working with the best." Producer Lota Hadley agreed, saying "Midnight Syndicate produces music that inspires cinematic greatness in horror films."
"SIN-JIN SMYTH is an excellent story with a sinister backdrop that we're looking forward to scoring to," said Edward Douglas of Midnight Syndicate. "Additionally, we're happy to be working with the top-notch creative team Snapkick has assembled."
Production is set for early June.
Related Links
Dies ist ein importierter Beitrag. Die Verlinkung konnte nicht automatisch übernommen werden. Rezensionen, Material oder weitere Inhalte findest du im neuen Content-Bereich oder auf der alten Version der Seite.