White Wolf News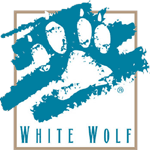 Page Count Rises on World of Darkness Rulebook
$19.99 Price Point Remains for First Printing
Atlanta, GA, July 12, 2004 — White Wolf Publishing today announced that the page count on its highly anticipated August release, the World of Darkness Rulebook has risen to 224 pages, without affecting the retail price for the first print run.
The central book in White Wolf's all-new contemporary horror setting, the hardcover World of Darkness Rulebook contains all the core rules for the Storytelling System and everything needed for portraying mortal characters in a world of hidden monsters. Major supplements like Vampire: The Requiem (also released in August) build on the main rulebook, providing expanded setting and the rules needed to play supernatural characters. The World of Darkness Rulebook was originally planned for 160 pages, but as the manuscript was refined, it ultimately grew to 224.
"There isn't an ounce of fat in that book," said Ken Cliffe, White Wolf's Vice-President of Editorial & Development. "Those extra 64 pages allowed us to give readers the complete rulebook they deserved. We knew we couldn't settle for a stripped down summary."
The first printing of the World of Darkness Rulebook will maintain the solicited $19.99 retail price. "Adding those pages noticeably increases our costs on the book, but we're holding to our $19.99 price point on the initial printing," explained Mike Tinney, White Wolf's President. "It was important that we honor that and reward those who have been waiting for months to buy this book on the first day."
Subsequent printings of the World of Darkness Rulebook will bear a suggested retail price of $24.99. To prevent stocking problems, these printings will bear a different stock number and ISBN, although the contents will be identical.
World of Darkness Rulebook (first printing)
WW55000; ISBN 1-58846-476-8; 224-page hardcover; SRP $19.99
On sale August 21, 2004
Vampire: The Requiem
WW25000; ISBN 1-58846-247-1; 304-page hardcover; SRP $34.99
On sale August 21, 2004
World of Darkness Rulebook (second printing)
WW55002; ISBN 1-58846-484-9; 224-page hardcover; SRP $24.99
# # #
Since its entry into the roleplaying game market in 1991, White Wolf Publishing, Inc. has grown, maintaining an average market share of 26%. With collective book sales in excess of 5.5 million copies during this time, White Wolf is one of two undisputed worldwide publishing leaders for pen and paper roleplaying games. White Wolf properties have been licensed for television series, comic books, action figures, console and computer video games, coin-operated arcade games, professional wrestlers, replica props and weapons, interactive media events, and a myriad of merchandise. More information on White Wolf can be found at www.white-wolf.com .