Dawnforge: Age of Legend released!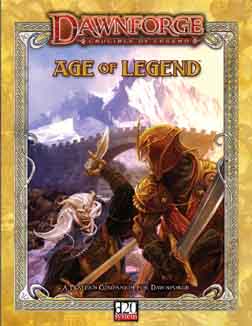 The second book in Fantasy Flight's Dawnforge d20 campaign setting, Age of Legend, is available now.
It is an age of glory.
The great races have reached their pinnacle,
Living magic throbs in the world like the breath of a god,
The colonization of the far reaches has begun.
It is an age of legendary heroes, legendary magic
And legendary power.
Yet somewhere, into the heart
Of wisdom, darkness creeps.
Dawnforge: Age of Legend is the first expansion for the Dawnforge d20 campaign setting. Age of Legend explores the world of Dawnforge and the heroic characters that can be found within, offering new rules and abilities for Danwforge players as well as new equipment, feats, prestige classes, magic, and expanded rules.
Dawnforge was chosen as one of 11 semifinalists from almost 11,000 entries in Wizards of the Coast's fantasy setting search.
128 pages
Softcover
SRP: $21.95
Related Links
Dies ist ein importierter Beitrag. Die Verlinkung konnte nicht automatisch übernommen werden. Rezensionen, Material oder weitere Inhalte findest du im neuen Content-Bereich oder auf der alten Version der Seite.