The Weekly Gatezeer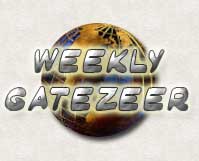 So weiter geht es mit den Wochen-News in gewohnter Art…
Wizards News
1. Sharn: City of Towers Excerpt
2. Complete Arcane Excerpt
3. Product Spotlight — Complete Arcane Designer Interview
4. Product Spotlight — Sharn: City of Towers Designer Interview
5. D&D Miniatures: Magnetic Arena
6. NEWS: 10 Reasons Why Your Character Wants You to Get Complete Arcane
7. Sharn: City of Towers Wallpapers & Screensaver
8. Complete Arcane Wallpapers
9. NEWS: 10 Reasons Why Your Character Wants You to Get Sharn: City of Towers
10. Adventure Locales: The Shrine Along the Way
11. D&D Miniatures: Gen Co So Cal Miniatures Events
12. NEWS: 10 Reasons Why Your NPCs Want You to Get Complete Arcane
13. Rules of the Game: All About Attacks of Opportunity (Part 2)
14. NEWS: 10 Reasons Why Your NPCs Want You to Get Sharn: City of Towers
15. Dragonshards — Dwarves of the Mror Holds, Part 1
16. Under the Glass — Goblin Uprising
Star Wars D20 News
1. Zero Zero Zero
2. Bespin Part 5: An Exclusive!
Eberron Journal News
Die News von der Eberron Fansite schlechthin.
1. Sharn: City of Towers Designer Interview
2. Mark of Heroes FAQ
Alle News inklusive Links findet ihr gesammelt unter
http://breland-ledger.blogspot.com/
DunDJinni
Der neueste Download müsste heute irgendwann kommen.
Das war's für diese Woche.