The Weekly Gatezeer #18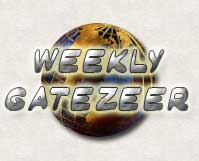 Sorry ichhabe es am Sonntag vergessen bzw. auch nicht geschafft 🙂
So hier die Wochen-News: Der Gatezeer.
Hier die News der vergangenen Woche…
1. Dragonshards — House Phiarlan, Part One
2. Sharn Inquisitive — Researchers Crack Code of Vvaraak
3. Web Enhancement: Complete Adventurer — Secrets of the Fochlucan College
4. Vicious Venues: The Greenleaf Shop
5. Behind the Screen: Membership Has Its Privileges
6. Use This Book Tonight: Complete Adventurer
7. NEWS: Talk with Other Players on Our Message Boards and Chats
8. D&D Miniatures: Deathknell Preview 5
9. D&D Miniatures: New Scenario Formats
10. Realmslore: The Chalice of Serpents, Part Two
11. NEWS: Wizards to Release Keith Baker's First Eberron Novel
12. Rules of the Game: Making Magic Items (Part 7)
13. Sharn Inquisitive — Crown Names ir'Saldivar to Dark Lantern Post
1. We Don't Need That Scum
Das war's für diese Woche.