Midnight Syndicate Videocontest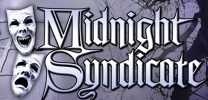 Das Midnight Syndicate sollte vielen Rollenspielern bekannt sein, machen die Jungs aus Ohio doch schon seit vielen Jahren erstklassige Soundtracks für Rollenspiele. (Siehe Reviews hier im Gate)
In den letzten Monaten ist es etwas ruhiger um Ed und Co geworden, denn sie haben intensiv an ihrem ersten Horror-Streifen "The Dead Matter" gearbeitet, der nun im Sommer diesen Jahres endlich veröffentlicht wird (direct to DVD/BD).
Zum Release haben Midnigh Syndicate einen Contest gestartet, mit dem ihr selbst auf die DVD kommen könnt.
Im folgenden der Pressetext und der Link zur Contestseite:
The Dead Matter movie to be released on July 30th. Midnight Syndicate gives filmmakers chance to have their work featured on The Dead Matter DVD and win prizes with their 13th Anniversary Video Contest.
(Cleveland, OH) Midnight Syndicate Films has announced that The Dead Matter movie and soundtrack will be released on July 30th. Production on an interactive website that allows fans to delve deeper into the world and characters they will encounter in the movie is underway. A set of three new trailers, the first of which will be released in February is also in production along with a mini-documentary produced by Smudgeline Productions and other behind-the-scenes featurettes. All of these items and more special features to be announced soon will be included on the DVD release.
Midnight Syndicate Halloween Music is hosting a 13th Anniversary Video Contest where filmmakers and animators can create a silent film or music video to an existing Midnight Syndicate track. The winner will be featured on "The Dead Matter" DVD as well as win prizes from sponsors: Screamline Studios, Conquest Graphics, Robert Kurtzman's Creature Corps, Van Helsing's Curse Halloween music, and Midnight Syndicate. Other finalists will also win prizes and special promotions.
Judges include legendary frontman and horror fan Dee Snider (Twisted Sister, Strangeland), Horror FX-legends Tom Savini (Friday the 13th, Dusk Till Dawn) and Robert Kurtzman (producer From Dusk Till Dawn, KNB FX, Wishmaster), as well as Edward Douglas (The Dead Matter) and Gavin Goszka of Midnight Syndicate and producer director Gary Jones (Xena, Hercules, Boogeyman 3).
Teilnehmen kann jeder der mag!
Ed selbst hat es uns extra bestätigt:
It's open to everyone around the world… just make a silent film or music video or something to any Midnight Syndicate song and it's great prizes and the winner has their movie included on the" The Dead Matter" DVD (or blu-ray)
Related Links
Dies ist ein importierter Beitrag. Die Verlinkung konnte nicht automatisch übernommen werden. Rezensionen, Material oder weitere Inhalte findest du im neuen Content-Bereich oder auf der alten Version der Seite.